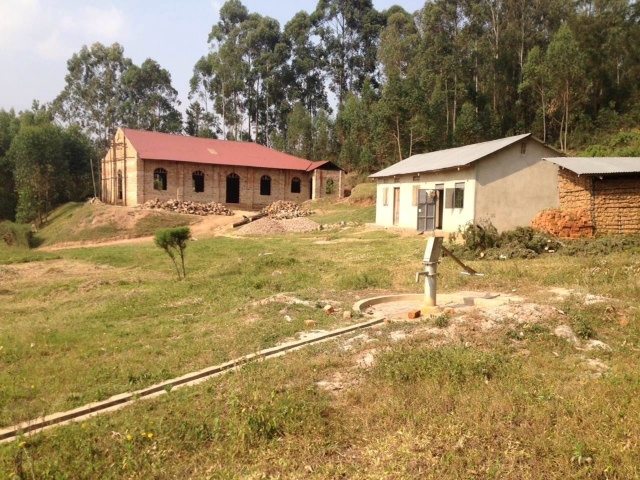 Development
In 1988 Ivan's parents felt a call for revival in their village and gave some of their mountain land to build the first Pentecostal church in the Mparo area. Deliverance Church, MCM's church partner, is the "mother church" now of 9 other churches in the Kabale area! This visit Ivan's Dad and I talked of the villagers' impressions of MCM after we have now been here for over a year. He seemed delighted to share that the scuttle about MCM in the inner village circles is that MCM is bringing "development" to this rural area. And that is a God thing!
This photo, taken on the church property, shows two of those developments. In the foreground you can see the new borehole/well that was completed in February. Just past that and newly completed in May is the MCM Office (which needs a sign). In the background you can see the church itself which is going through a building expansion and has bricks and rocks ready for her next stage. MCM is also expanding! From 6 children last July to 52 children this July! In our eyes that is 46 more children in school. The schools are receiving 46 more student tuition fees and expanding themselves. Not as a direct result of MCM but certainly we are a source of hope and anticipation.
This news about MCM bringing development that Ivan's Dad shared really blessed me. This photo blesses me and I hope it blesses those of you who are making these differences possible alongside MCM here in the mountains of Uganda.
What a beautiful God we serve!
Blessings,
Michele