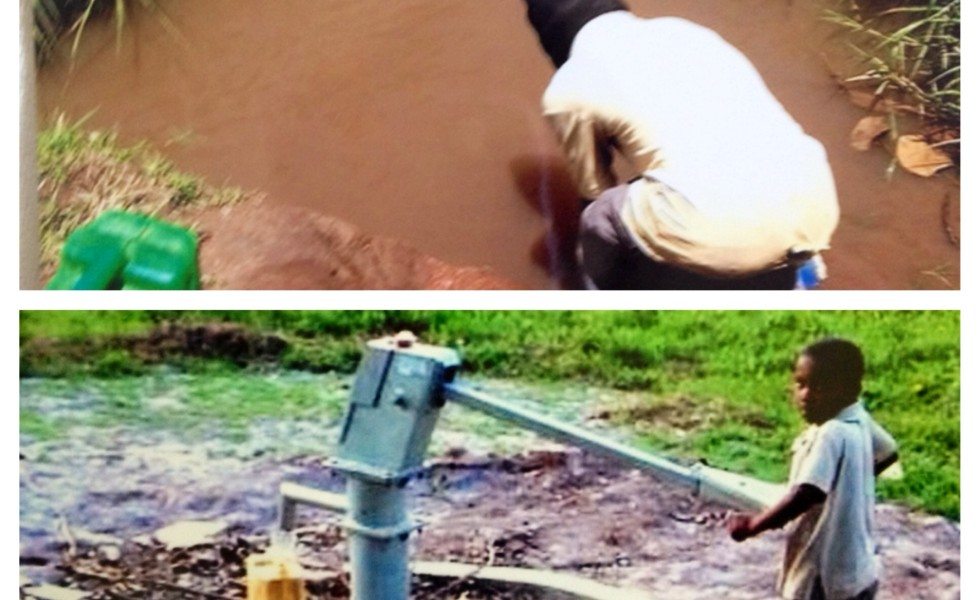 Team CLEAN WATER Celebrates a Win!
I would like to tell you the story of a team of people who did not know one another but who came together for a small mountain Ugandan village to win clean water for them.
Once upon a time there was a farming community that had one Artesian Well. It was located in the very bottom of their valley in a mountainous area. This was convenient for the first residents there years ago because the first farms and farmers were located in that same valley. However as the years went on and the population increased, people had to create their farms and homes on land higher and higher up the mountain, which resulted in people having to walk further and further for their water, carrying it uphill back to their homes. A nearby creek was the source of dysentery and sickness for those who could not make it all the way down to the well.
This was the situation Mountain Children's Ministry encountered when we first moved to Butekumwa. Not to mention standing in lines for the water. So we took our need for a new borehole (clean water well) back to the States and started telling about the needs of the villagers, hoping to build a team willing to make a difference.
Three primary sources for the water emerged to form a winning team with MCM. The first was my husband Mark who decided to run his first Half Marathon ever and raise funds for water in the process. Many friends and family contributed to his efforts. By the grace of God and Mark's endurance our first third of the money was raised! The second team member was my Dad, Felix Charlier. A retired Plumber, Pipefitter and Welder, his heart was really touched by the lack of water. My Dad always said, "You can do without electricity and even food, but try living more than a few days without clean water!" He generously contributed the second third.
Finally, a foundation, represented by Julie Hess (a friend of my daughter Kate) stepped forward with an interest in helping. The Amber Volk Foundation was created in honor of Amber Volk a young college girl who loved Ugandan orphans and wanted to make a difference in their world. When she suddenly and unexpectedly died a few years ago her Dad and friends started this foundation in Ohio to raise money for Uganda. After several meetings and phone conversations and even some time online with Ivan, they decided to contribute the final third! Like a relay race the baton was passed and MCM now had the necessary money! All these resources came together between July and September 2013. It seemed God was just swinging doors open for MCM and the villagers!
Little did we know that raising the funds was the "easy" part of building a new well. Butekumwa, where the well was needed, is a tiny rural farming village located deep in the mountains of southwest Uganda. Finding a drilling company willing to travel there, easily an 8 hour drive from the capital city, was difficult to say the least. Several companies declined. One, after giving their estimate (including the travel costs) refused later reporting they needed to be building serveral wells to make it worth their while. But God was faithful and through a friend of Shane's we were connected to Water For People. They were able to recommend reputable drillers in Uganda who would travel.
In November of 2013 the borehole survey team came to our village and took their measurements surveying for water which they located at 120 meters…360 feet deep into the mountain. In December the drilling team came and struck water with many children and villagers looking on! They capped off the borehole (without a pump) and it sat untouched until February. When the finishing team finally came to add the pump handle and the final touches to the well it took them only one day to complete. I was there on that day and I was the first to prime the pump and see the very first drops of clean water out of that brand new well!! Now if that was not a blessing from God I don't know what is! Ivan and I were jumping and celebrating right there on the spot! Winning team!! Thank God!!
The well is located on the church property central in the village and available to all.
Children and villagers are using the well now. With each passing day more people are seen at the pump. It has tested negative for any contaminents, but it tastes a bit "hard" like "well-water" tastes here. At this point it is being used primarily for washing clothes, bathing and for watering gardens. Which is to say…a LOT! We are so grateful to God for gathering together family and friends, an unstoppable team in bringing fresh water to Butekumwa! Isn't it amazing what a team can do?